Green and clean Christmas
By Dr. Fr Bolmax Pereira, Parish Priest
The festive season is back. It's time to celebrate the birth of our Saviour in the town of Bethlehem!
Yes, the town of Bethlehem celebrated the first Christmas, with hordes of angels singing glory to god in the highest and peace to all men... ; shepherds running to witness the proclamation made by the angels.... We have come to worship him. Magis who followed the star to worship the king of all the world, born in a manger among the biodiversity of god's creation. Ain't the first Christmas so green and clean?
More than 2,000 years later, we still celebrate that birth which changed the course of history. In the present era, the gen-next is so immersed in the Christmas festivities, although we might be expressing it more commercially and globally rather than spiritually and religiously.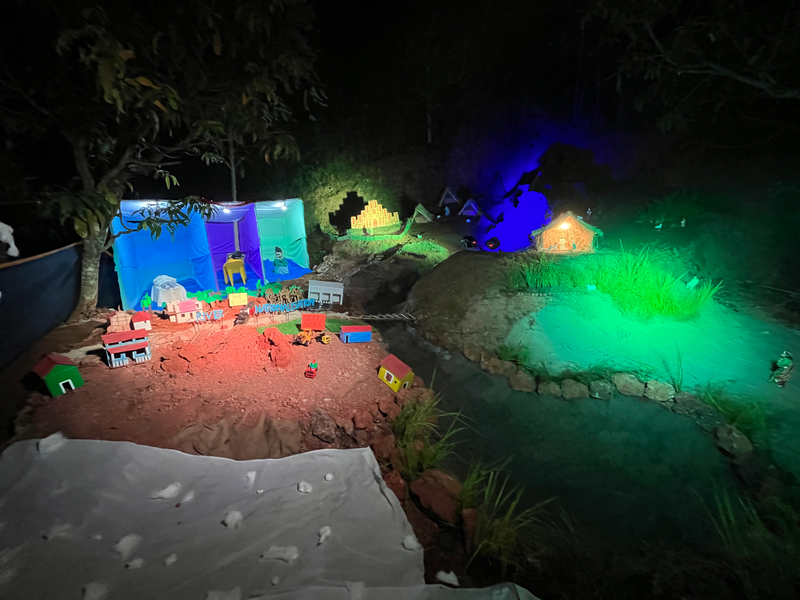 An eco-friendly crib presented at St. Francis Xavier Church, Chicalim
Why not make our Christmas clean and green? A few thoughts:
1. THE SINGING ANGELS MODEL:
It was indeed peaceful and soothing as the angels we heard on high were singing and playing the music. Let's make our parties sound green by simply following the decibel limit officially set by the Goa state pollution control board (GSPCB).
A Christmas without sound pollution.
2. THE CURIOUS SHEPHERDS MODEL:
It was indeed blessed and fulfilling when the curious shepherds believed that the child born in a humble manger is indeed the messiah who created the whole universe and who sustains it. There are so many opportunities we curiously come across. A lot of money is being pumped in to buy land and develop properties. Let's make our Christmas celebration develop green by simply flushing out our greed and thus save the destruction of our land.
A Christmas without land destruction.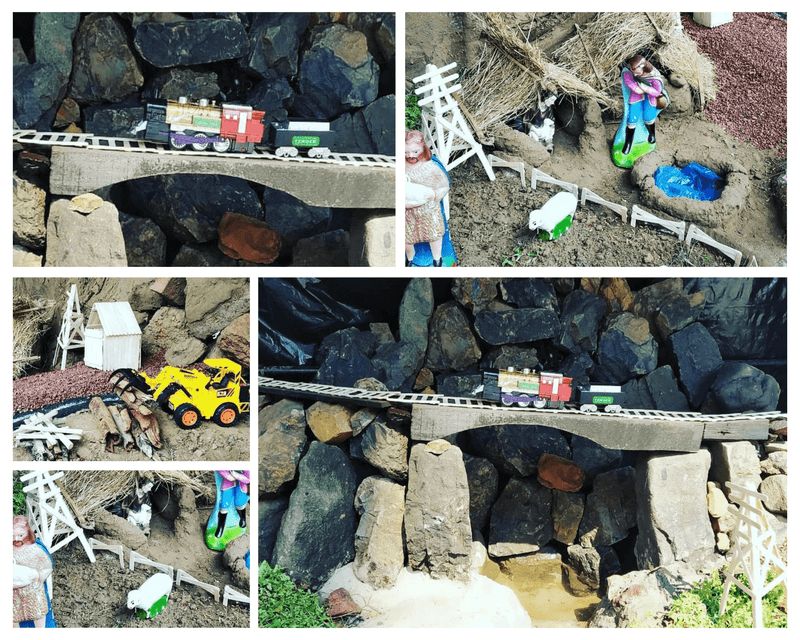 Crib highlighting the Mollem Double Tracking issue, made by SFX Chicalim Youth
3. THE GIFTING MAGIS MODEL:
It was indeed joyous and meaningful when the magis from the east, led by the star, worshiped The Saviour of the world. And gifted him gold, myrrh and frankincense.
More than any other era, today's generation indulges in giving and receiving of gifts and presents during the Christmas season. It will do a world of green good if the family or friends group agreed on spending limit for such gifting; agree upon choice of gifts which can be sourced from local artisans, local handicraft fairs, which will greatly reduce the impact of transportation that contributes significantly to greenhouse emissions and global warming.
Imported gifts are often expensive and often lose the connect with the local story of living.
If re-use is considered as good etiquette for nature conservation, why not consider re-gifting as a new trend in Christmas green gifting? The dress that was already worn, yet carries that shine worthy of a Christmas party can still be reused by you or someone else. Inheriting the clothes from your older siblings and even elders at home might be a lost trend that can be boldly re-activated and get rid of "buy and throw away" culture. It surely will save a lot for the environment.
And there are gifts to be avoided this Christmas. Spend less on toy gifting. It doesn't serve much ecologically. Gifting games that promote violence should be replaced by peace promoting games and toys. Games showcasing nature's creativity and educational toys and games would be a great choice. The sale of batteries that cause great damage to environment on its disposal is often observed to rise during this season. Why not consider 'battery free gifts only'? A Christmas without mindless expenditure.
PERSONAL CONSIDERATIONS
This Christmas, I would personally inculcate "buy smart" for ecology. The first point I would think while buying is, what would I do with it after the festival? How would I dispose it off after its use? Anything that will damage the environment after its use is out from my buy list. Fireworks that thrill but kill silently are no good buys for me anymore. Hence, goodbye fireworks I can celebrate better, cleaner and safer without it. To make it greener, I do not buy what is not needed. Like an extra pair of new shoes, extra trousers and apparels when my wardrobe currently needs defenestration.
MY GREEN SANTA:
And as I think of Santa Claus, I cannot avoid imagining our elected representatives moving with that red big bag on their shoulders. But instead of distributing goodies that would generate more waste around, I imagine them lifting and collecting the thrash that has been disposed unscientifically and unhygienically all over the place. Hope the gift loving children would not hate my Santa who wants to gift them with fresh environment and clean air. Till then, no more 'disposable gifts' this Christmas.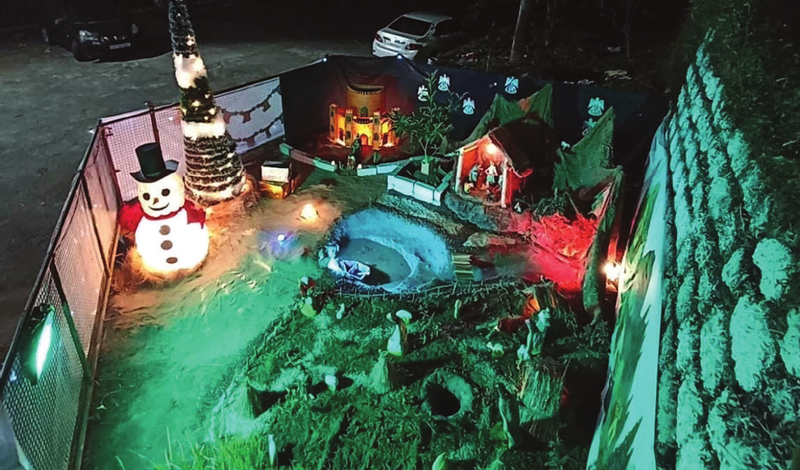 A crib made with eco-friendly materials St. Francis Xavier Church, Chicalim
Global climate change commitments:
In this era of fast changing climate when the world is talking about mitigating the problem by reducing our carbon footprints, we cannot afford to keep our celebrations unchanged. Lot of unpopular conscious changes will need to be part of our celebrations to guarantee:
No food wastage (RSVP invites, no unlimited service)
Low waste generation (no use of disposable cups and plates)
Law adherence to comply with environmental laws reg. Noise pollution, air pollution, water and land pollution
Eco-friendly decorations only
Guests clean after party (how Japanese fans cleaned stadiums after football matches)
Fine those caught littering around at the party venue. Let's strive in simple ways to make this Christmas clean and green for everyone.